The wonderful EGE over at TheHouseAndI ran a fun "name the mascot" contest, and selected my submission as the winner. Yeah for "Biscuit, the Pig-Rat!"
As my prize, she sent me some wonderful gifts, which I received just the other day.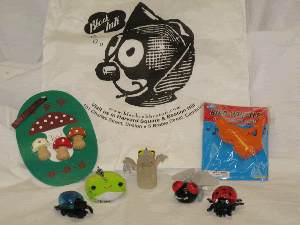 (Being new to blogging, it took me a bit to get the hang of posting pics. Sorry for the delay!)
These things are freaking cool! They're like those little cars, where you drag them backwards, and then let them go and they ZOOM! off into the sunset. The little red and blue bugs are the cutest things. Who wouldn't want a little ladybug that will run across your desk? And the giant fly? You wind him up and let him go, and the wings flap up and down.
Plus there's some fantastic stand-bys, the water bird (fill with water, blow into the tail, and it whistles like a bird), and the finger monster. Both are modeled here, by my husband splorp!
I also got some nifty push-pins shaped like toadstools (so cute!), and a little green fuzzy guy shaped like a frog. Froggy wasn't real popular with my bird, Harley, but I couldn't get a good photo of the reaction, so you'll just have to try and picture a bird leaning as far away from froggy as possible, and then reaching out to bite it.
But possibly the best thing of all? EGE sent me my very own pig-rat!
And just so you all can appreciate the whole picture, Biscuit is MUCH larger than I thought he was.
Oh, and I solved the question of "Is it a pig, or is it a rat?" Also, it's supposed to be refrigerated.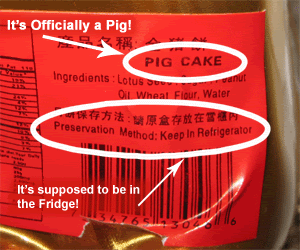 It's official, it's a pig.
I did eat him, after I refrigerated him. And I have to say, it probably would have been easier on my teeth to leave him out at room temperature, because Biscuit was hard as a rock. Pretty tasty though. I thought he tasted a bit like nuts - maybe almonds.
Thanks EGE! I loved my fun surprise.