A little while ago, EGE over at
TheHouseAndI
blogged about
her books that are taking over the house
.
While I can't make that same claim to fame, I have, on occasion, been accused of having too many books. Usually said accusation comes after moving boxes upon boxes of books (but still, how can anyone
EVER
have too many books?).
But, but, but,
I argue,
at least I know what books I own!
I have very few duplicates because a while ago the
husband
and I bit the bullet and began a spreadsheet. Which means
HE
started a spreadsheet.
An all-encompassing spreadsheet to catalog my many books. A spreadsheet which I was then basically
ordered
to keep updated. Said spreadsheet now has over 500 entries, and, when printed, covers 11 pages (in
reaaaallllly
tiny font).
Now, my dear husband didn't create this spreadsheet out of the kindness of his heart. It's not like he just did it for fun. No, he had an ulterior motive. He started this spreadsheet (called "Bibliophile") purely for his convenience. It was his thought that if he knew what books I owned, he could buy me books for anniversaries, birthdays, and Christmas, and thus get credit for shopping for such thoughtful gifts, and also not have to work too hard at actual shopping.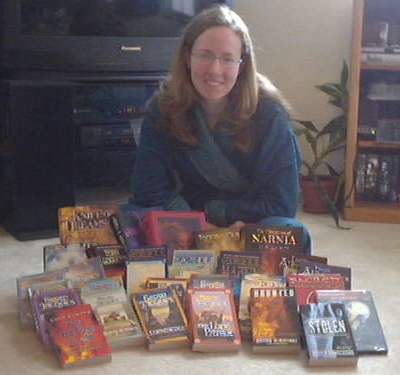 Christmas a couple years ago.

So, this gift-giving process actually works fairly well. I get entertainment, and he gets to read them after I'm done with them.

The problem with receiving books as gifts for numerous occasions is that I get accused of having "too many books" (HOW is this possible?).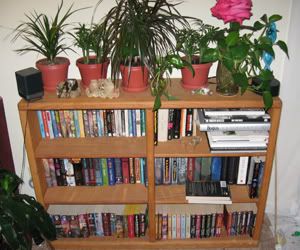 Bookcase 1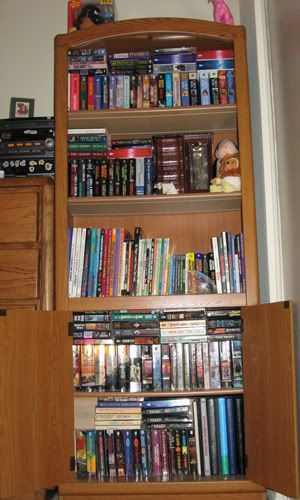 Bookcase 2

Yes, my books are double stacked. Can you tell? Maybe it's my terrible photo-taking skills.


Bookcase Close-up (can you find the duplicate books?)

Hmm... Maybe double stacking them is why people seem to think I have too many books. They look at my overflowing bookcases, and think it means I ran out of room.

But really? If you stack them really close together, you don't have to dust them.

Who can tell me what the pun in the title means?