As much as I love books, until Sunday I had never attended a book signing. Partly this is due to not living in the middle of a major metropolitan area, and partly it is due to not reading much from really huge, well-known, New York Times Best-Sellers list authors.
However, just this past Sunday, June 22,
Janet Evanovich
(um, yeah, she
is
one of those New York Times Best Selling authors) was in a city nearby, and I attended with my mom and aunt.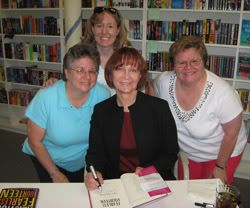 Janet Evanovich in Mysteries to Die For, Thousand Oaks, CA
Mysteries to Die For
was a really fun bookstore. They don't have a lot of square footage, and in fact they are a very small book store that specializes in mystery novels.
Now, never having attended a book signing prior to this, I was really impressed with the bookstore's system for moving people through the line quickly and efficiently. Janet did not do a "talk," or a discussion of her work, she was there strictly to sign. Apparently, this was not an official stop on her book tour - she squeezed it in because she likes the feel of the small book stores, and wants to support them.
So, since she just sat down and started signing, I was pleasantly surprised how quickly we moved through the line. My mom did most of the leg work for us - she has been to a couple of signings and knows "the drill." This signing had about 300 places in line. You signed up to buy a book, and they would give you a place in line. My mom picked up our books on the Wednesday before the signing, and we were number 86 and 87 in line.
We got there early (so did most people), and there was a table set up in the parking lot to sign in and get your book and line number, if you didn't pick up your book early. Having the table in the parking lot was great, because it kept people out of the store once the line started moving through the store to the signing table. Could you imagine a line of impatient people, being cut off because some late arrival wants to sign in? Yeah, this system was much better.
Once you had your line number, you just waited around until they called your number. The store staff posted a dry-erase board about 6 feet off the ground, and they wrote the numbers they were calling up on the board, so everyone down the line could see what numbers were up (no outdoor paging system). This white board system was great, because we could just look up at any time and see the numbers they were calling.
Once they put "85-95" up on the white board, we moved to the waiting area, and then one of the employees would move people in a few at a time. As people came out, we moved up until we were finally inside the store. Then we stopped at a podium where another employee asked you what you wanted Janet to sign, and then she wrote it on a post-it note in clear printing, and opened the book to the proper page so Janet's time wasn't wasted with unnecessary page turning (hey, with 300 fans in line, and some of them bringing 5 or 6 of her previous books for her to sign, that's a lot of pages to flip!).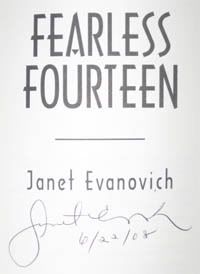 Fearless Fourteen, Signed by Janet Evanovich!
My aunt had her book personalized to her. I decided that I would go for the more generic "signature and date" format because my real name has an odd spelling, and I didn't want to do the
"no, I spell it this way"
, "
but you said that"
,
"yes, but I spell it this way"
conversation. I have had a lot of those stupid back-and-forth-name-spelling debates over the years, and I mostly do whatever I can to avoid pointless time-wasting.
All-in-all, it was a really fun morning. The line moved really quickly, due in large part to the streamlined process the store employees put together. The signing started at 10 AM, and we were signed and done by 10:30. Almost a hundred fans in 30 minutes, not bad (and, like I said, some people brought bags of her books for her to sign!).
Oh, and a really nice young girl (someone said it was Janet's daughter) was going around to the fans asking, "OK, Ranger or Morelli?" and depending on what you said, she gave you a post-card sized sticker.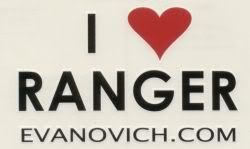 Yup, Ranger's my man.