The next book in the series,
Prince Of The Blood
, doesn't really fit into the Riftwar Series, or any of the other Raymond E. Feist books that followed. Which is odd, because Feist seems to have a master plan that involves a very convoluted overall story.
Prince of the Blood
is fairly close to a stand alone book, although it introduces us to characters who show up in later books. The basic premise is that it is many years after the events of A Darkness at Sethanon, and Prince Arutha now has several children. Unfortunately, the oldest two, twins Borric (elder) and Erland, are close to the typical noble's sons - spoiled, privileged, and a bit out of control.
Arutha has tried everything he can think of to keep them in check, but it isn't working. Compounding the problem is that the King, Arutha's brother Lyam, has no heir, the crown prince having died at 15 in an accident, and only daughters since that time.
Lyam is approaching the age where men (in this medieval-age world) is being considered "old," and Arutha is not much younger than him. Arutha and Lyam have decided that Arutha will not inherit, and Borric will be named heir. Unfortunately, spoiled children are not what the kingdom needs for stability.
In an effort to convince his eldest sons of their duties to the kingdom (duties Arutha has always taken very seriously), Arutha and Lyam have decided to send Borric and Erland to the neighboring Empire of Kesh as ambassadors during the Empress' Jubilee Celebration (with a great deal of supervision!).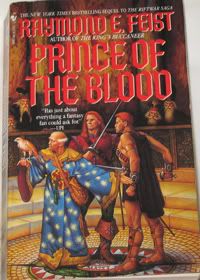 Plots to kill the princes pop up before they even leave on their journey. However, they can't back out of travel because the intelligence forces (spies) fear that someone in Kesh is trying to frighten Arutha into keeping his sons home in an effort to incite war between the two countries. Basically, backing out now would be a grave insult to the Empress of Kesh, now that they have accepted her invitation.
While I enjoyed this book, I keep coming back to the thought that the main purpose of the story is to set the stage for the introduction of a couple of characters, who pop up in the next book, featuring Arutha's youngest son, Nicholas.
On a side note, don't you love the cover art on the versions of the books I have? I love the detail, and how as you're reading the books you can flip to look at the cover, and imagine exactly who is who in the picture. The newer, "Anniversary Edition" books just aren't the same, for some reason. I stole this image from Amazon, so the big arrow at the top was added by them.