Starting this blog, I was going to talk about my favorite books. Which I started to do! Which I didn't keep doing.
I thought for sure I would be able to keep it up, and I even wrote out of list of topics, for which I would come up with a semi-corny sounding blog title, and proceed to make recommendations.
Uh huh. That's working oh so well.
I started off ok, but I guess I got
mired down
in the Riftwar books when I discovered I was missing one. I read it long ago, but I guess I only borrowed it from the library, not bought it.
Libraries are sooooo useful. If I go there, I don't spend money on books. And I can spend a lot of money when I go to a bookstore. Have you seen how many books I have?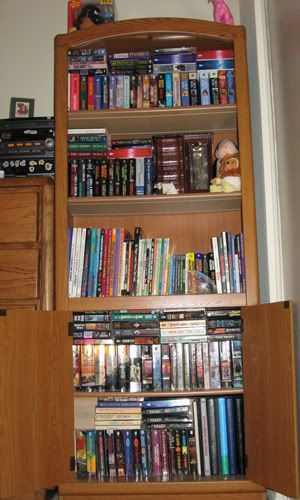 One of my bookcases
Gift cards are a great! I can usually stick to my budget at a bookstore if I have a giftcard.
::hint hint::
Like for my upcoming birthday. (almost here!)