It was nice to get the call that our fridge was ready to be delivered. But then during delivery this happened: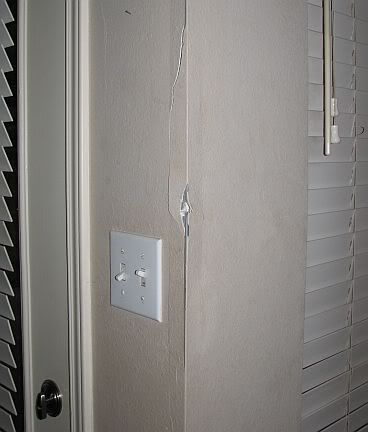 The fridge clipped the corner of a wall and punched a hole (an actual hole!) in the metal corner bead. A little closer:
Holy crap, this whole thing is like, How NOT to order appliances.

There was about 3 feet of damage total - the punch in the middle, and then the drywall tape cracked about a foot and a half in each direction along the corner bead.

The look on the delivery guy's face when he hit the corner was something else. And as soon as they were done installing the fridge they called their supervisor to report the damaged wall. Supervisor Fred then talked to splorp! and said they would send out a drywaller to fix everything, and to expect a call from the repair guy to schedule the visit at our convenience.

The guy came the next week or so, and did a really good job. He even feathered the paint to make it match (the previous owner left us lots of paint).

In the end, splorp! had a meeting with the store manager of the big box home improvement store to talk about everything that went wrong. And the manager was very nice and gave us a refund of 10% of the price of our fridge for the long delay, plus an additional cash settlement for the damage to our wall. Wheee! that made it a good deal.